i-Nonanoic acid is a monofunctional carboxylic acid intermediate.
General
Coatings
i-Nonanoic acid is used as a monomer in the synthesis of alkyd resins for stoving enamels and two-component paints (primers and topcoats). It brings better yellowing performance in comparison to fatty acids.

Paint
Driers based on metal salts are also produced with i-nonanoic acid.

Lubricants
i-Nonanoic acid is used in the production of polyolester synthetic lubricants.


Product Details
CAS No.: 3302-10-1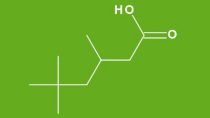 Package Information
0,4KG Glass bottle
185KG Steel drums
5KG Steel drums
900KG Composite IBC